Our bachelor's degrees encompass everything from the broad spectrum of physics and/or astronomy to specialized research in a field of your interest. Successful graduates from our program take advantage of the research opportunities available in the department and add a minor that brings a unique perspective to their field or career.
The department offers several tracks to the bachelor's degree in physics or physics and astronomy. In addition, the department offers minor and certificate options.  They have rather different goals and provide for a wide range of possible activities after graduation. It is desirable for students intending to major in the department, or simply wondering whether they should, to discuss their plans with one of the department's advisors as soon as possible.  Schedule an appointment with Undergraduate Advisor, Dr. Russell Clark.
Undergraduate Programs (PDF) »
General Information for New Majors (PDF) »
BS in Physics
The BS in Physics program is designed for those who wish to use their knowledge of physics professionally. A minimum program is specified which provides the student with a mastery of essential aspects of physics and related areas.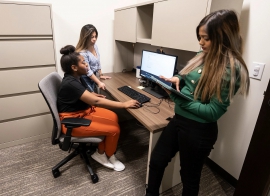 NEW: BS in Physics and Quantum Computing
The BS in Physics and Quantum Computing program is designed to prepare students for the fields of Quantum Information (QI) and Quantum Computing (QC). The major consists of a core program of physics, computer science and QI/QC courses.
BA in Astronomy
The BA in Astronomy program is intended to give students a thorough background in basic physics and astronomy, as well as the historical development of modern physical concepts and the relationship of these basic sciences to other fields.
Minors and Certificates
Students wishing to minor in physics may do so by taking 16 credits of prescribed physics courses. Our department also offers a Nanoscience and Engineering certificate. Learn more about our minor and certificate.
The Three-Term Calendar
The University of Pittsburgh's academic year is divided into three terms, each lasting approximately 15 weeks. The third term divides into two 6-week sessions or a specific class spans the two as a single session.
This three-term calendar allows students to increase their pace of study. Those who elect to attend all three terms can complete their undergraduate education in 2 2/3 years, instead of the 4 years required under the standard academic calendar. It should be emphasized, however, that this avenue must be carefully planned with the departmental advisor to navigate the required classes' scheduling.
Students who must work in order to remain in school will also find great advantage in the three-term calendar. By attending only the first two terms in the three-term calendar, they may use the four month break for employment purposes.