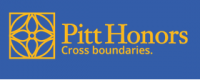 Mark Farino, a junior majoring in Physics, Mathematics, and minoring in French, has been awarded a Brackenridge Fellowship for the summer of 2020.  He is working with Dr. Vladimir Savinov on his particle physics project, "Search for Baryon Number Violation in Belle Data."
"I consider this research immensely important because I am searching for a yet-to-be-discovered decay chain and investigating a phenomenon which would better explain the world around us; one of the greatest mysteries in physics is why the universe contains significantly more matter than antimatter, as any matter produced during the Big Bang should have resulted in an equal quantity of antimatter to maintain balance.  However we clearly are here (!), so I want to find experimental evidence to validate how this is possible."
Read more about Mark Farino's research at PittHonors.blog.
Brackenridge Fellowships allow students to conduct independent research or creative projects of their choosing over the summer under the guidance of a mentor. During this period, fellows attend lectures, workshops, and panels with faculty and researchers across the university, as well as present weekly seminars with students of different disciplines to discuss their research.
Students interested in applying for Brackenridge Fellowships in the future are encouraged to read more at honors.pitt.edu/Brackenridge.
Date :
Thursday, June 4, 2020 - 14:30